Booking Information
Jeremy's show continues to gain popularity and is often booked a year or more in advance!  Be sure to contact King Productions as soon as you have a date for the best chance at availability.  You don't need to have all of the final details when you call, but don't wait to get your date locked in!  However, as we often are able to book more than one show per date, it's never too late to check either!  Show price depends on the length of the performance, type of event, location, etc.
The standard show consists of Jeremy's live singing to backing tracks.  The sound and lighting equipment is comparable to what a DJ would have - we take care of everything needed to bring you Elvis in concert!  Depending on the size and nature of the event, one or two people will set up, tear down, and assist during the show.  Set up and tear down takes approximately 45 minutes, so arrival time will be at least that much before the scheduled performance.  King Productions has a contract that must be signed and returned with a deposit upon booking.  The balance is due prior to the performance on the date of the show.  Acceptable forms of payment are money order, check, VISA, MasterCard, or Discover.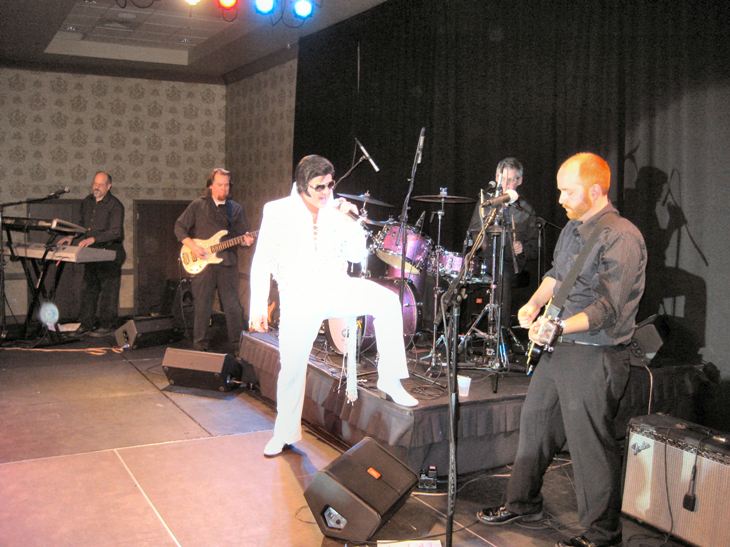 **Have a bigger budget or planning a large event/convention?  Need entertainment for an entire evening?  Ask about including Jeremy's band, The Memphis Sons!  This four person band teams with Jeremy to create an energetic live Elvis show that can't be matched!  The band can serve as an opening act, backing for the Elvis show, and as a band for dancing ALL IN ONE!**
In scheduling a performance with King Productions, the hiring party agrees to be responsible for the following conditions:
The performance will start on time.

Protection from the elements for Jeremy, his employees, and his equipment in any outdoor performance will be provided.  This includes rain, wind, and direct exposure to summer sun.
A minimum performance stage or space 8' deep x 16' wide (more if live band is included).
A close parking space will be provided for the purpose of loading and unloading equipment.
Other stipulations are detailed on the King Productions' contract.  Please contact us for additional information.