While the museum collection consists of dozens of high quality artifacts (and is constantly being updated and added to), the following items are some of the premier pieces which were of particular significance to Elvis himself.
ELVIS' PERSONALLY WORN TCB NECKLACE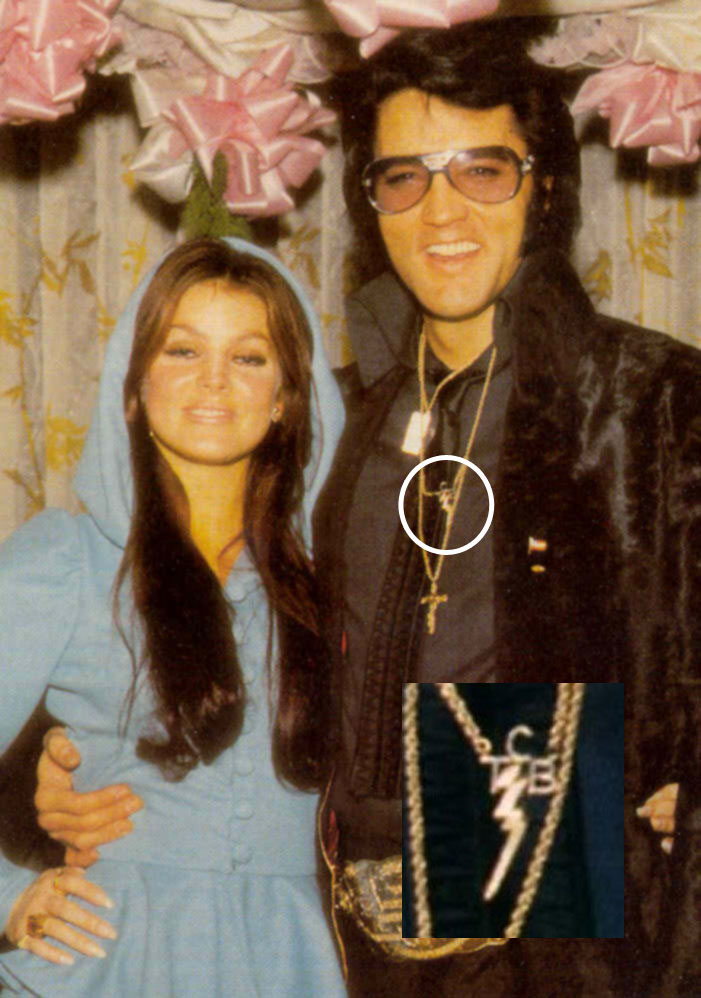 In the early 1970's, Elvis wanted to create a symbol for himself and his inner circle that would embody his philosophy.  What he came up with was the legedary TCB with a lightening bolt which stood for "Taking Care of Business in a Flash."  While Elvis often gifted these in a jewelry box to his friends and associates, he personally removed this particular necklace from his own neck and gave it to his hairstylist and spiritual adviser Larry Geller.  This is the most recognizable piece of jewelry in Rock & Roll history and Elvis can be seen wearing it in many photos on and offstage.
ELVIS' STAGE WORN BLACK MACRAME BELT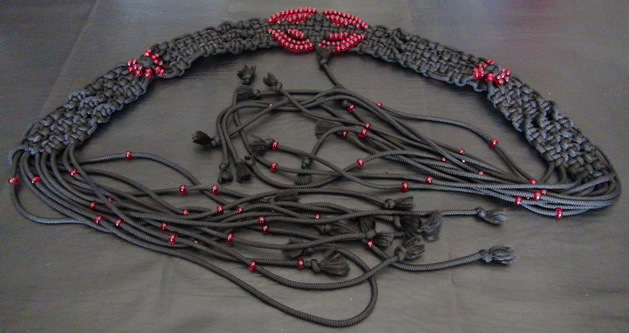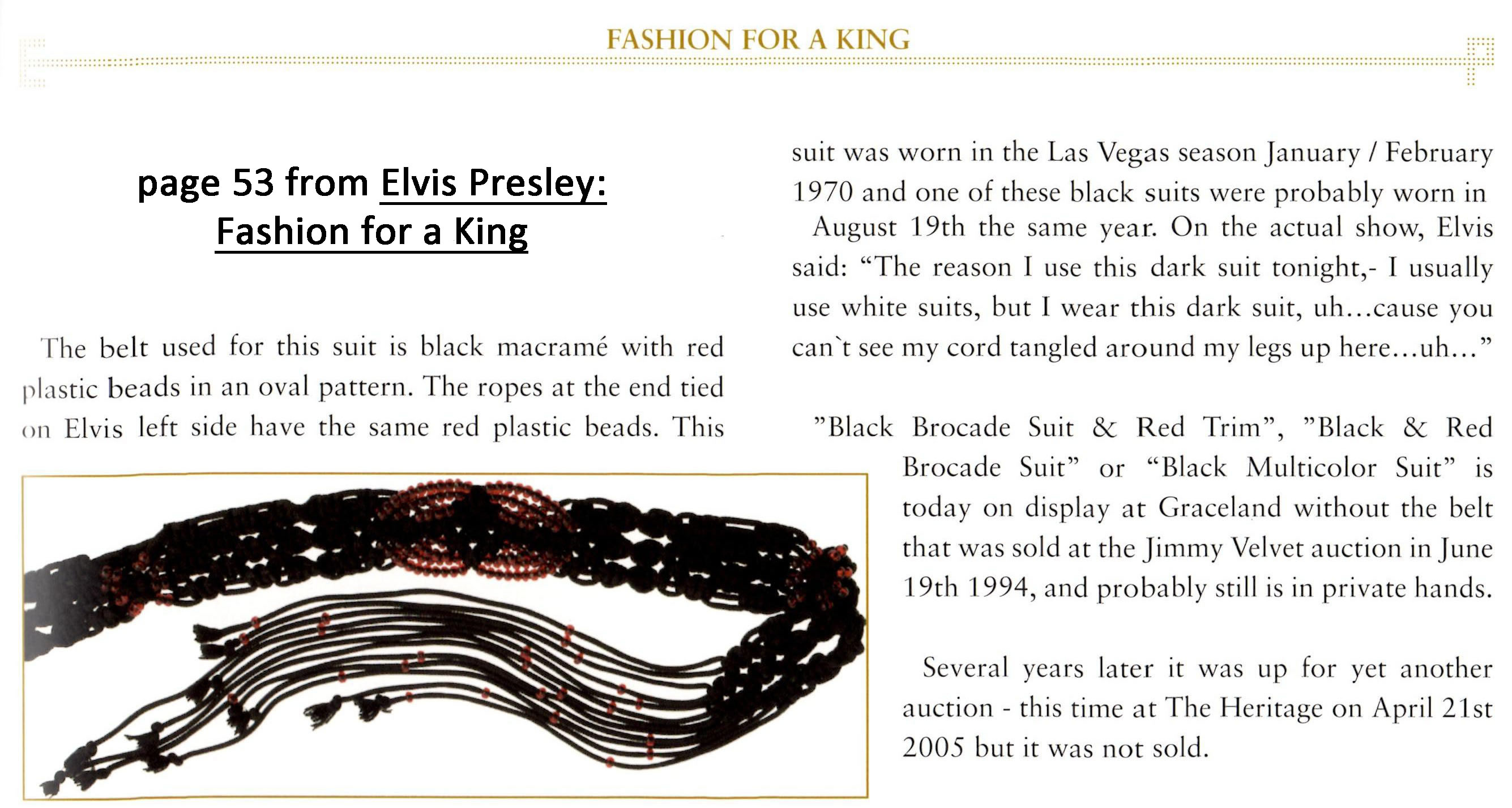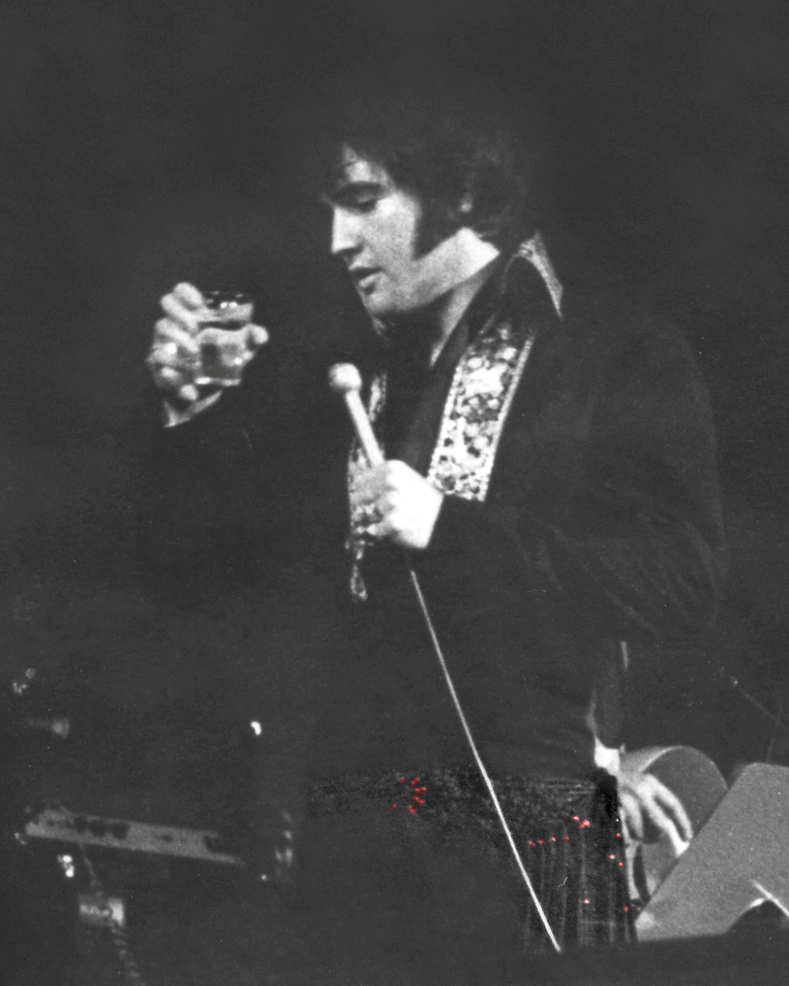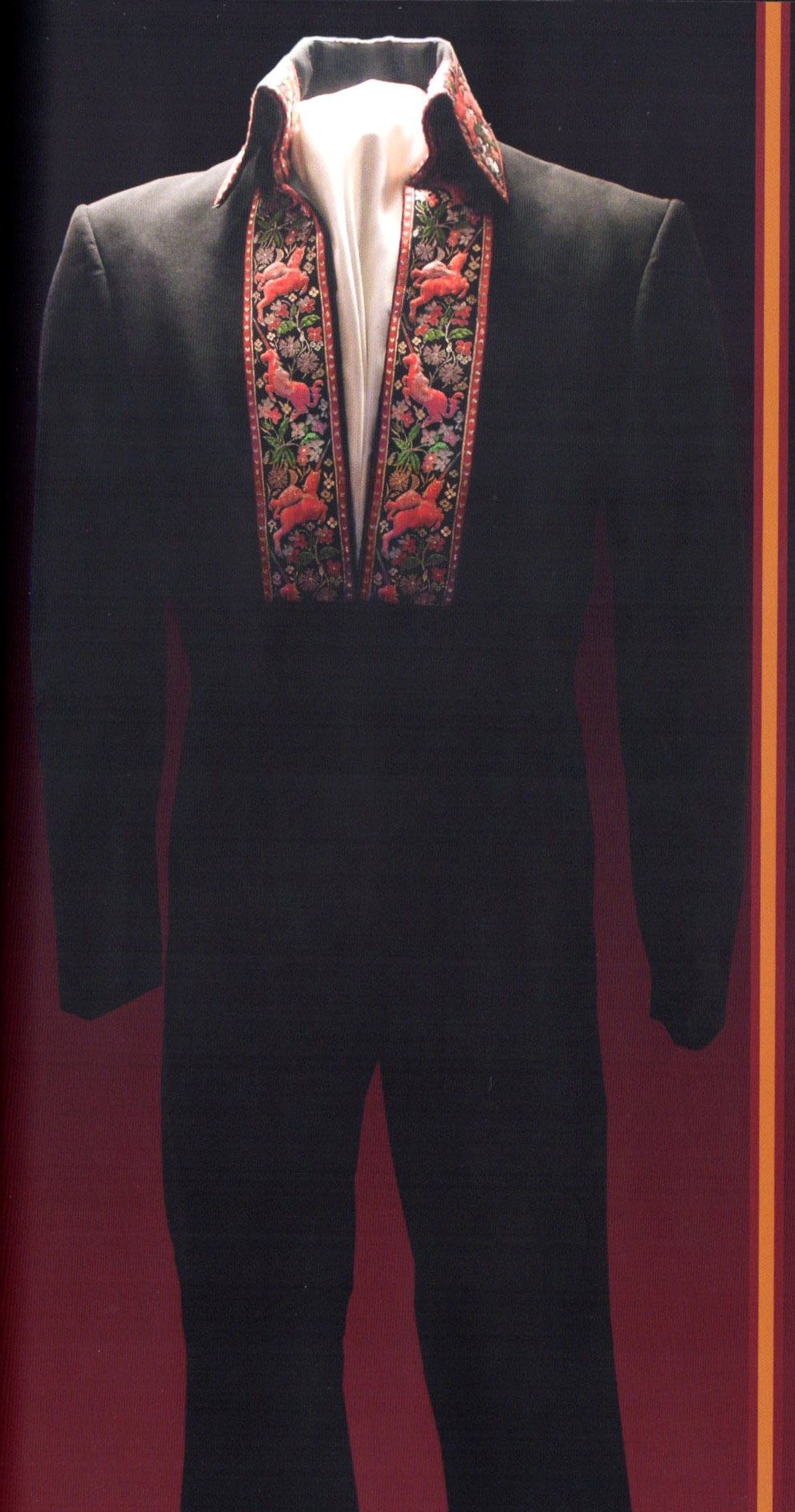 This belt was made for one of the first jumpsuits ever created for Elvis.  The suit is known by several names…the Black Brocade, the Black Sleek, and also the Unicorn Suit due to the unicorns embroidered into the collar and lapel.  It was made for Elvis to wear during his January/February 1970 Las Vegas season.  While this suit is on display at Graceland (shown to the left), its original matching belt is one of the highlights of The EP Mobile Museum collection.  Elvis is shown at right wearing his Unicorn suit and this belt – the beads have been colorized to show them better – on stage at the International Hotel in Las Vegas on January 30, 1970.
ELVIS' GOLD NUGGET AND DIAMOND RING FROM J.D. SUMNER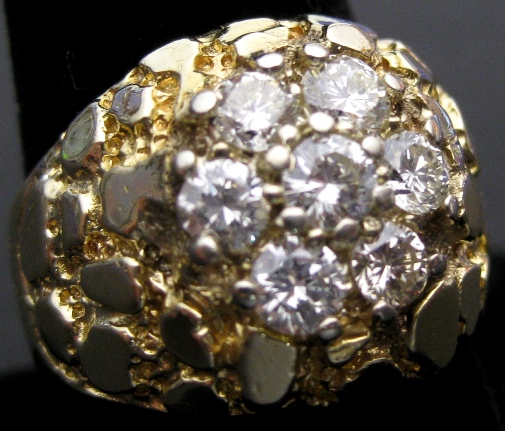 Elvis had a life long friendship with and admiration for legendary Gospel bass singer J.D. Sumner.  J.D. Sumner and the Stamps Quartet performed as backing vocalists at every one of Elvis' concerts from November of 1971 until his final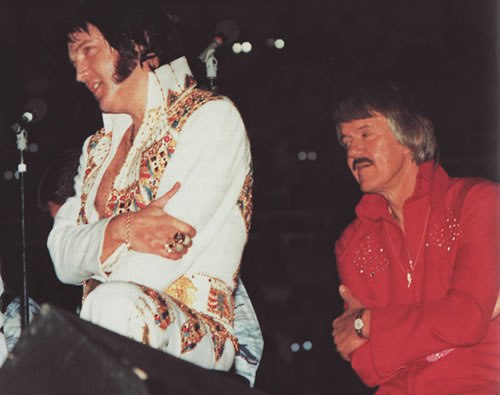 concert in 1977.  The two were close off-stage as well with Elvis looking at J.D. as a father figure.  Elvis was particularly generous to J.D. and gave him many gifts - from a new tour bus to many pieces of jewelry.  While Elvis gave J.D. many rings, this is the only known ring going the other way - from J.D. to Elvis.  J.D. must have wanted to give Elvis a gift to show him how he felt as the ring is inscribed "1 Cor. 13:13" on the inside of the band - for the Bible verse 1st Corinthians 13:13 which reads, "And now these three remain: faith, hope, and love.  But the greatest of these is love."  Incredibly rare piece of Elvis owned jewelry!

ELVIS' "LAST VACATION" RING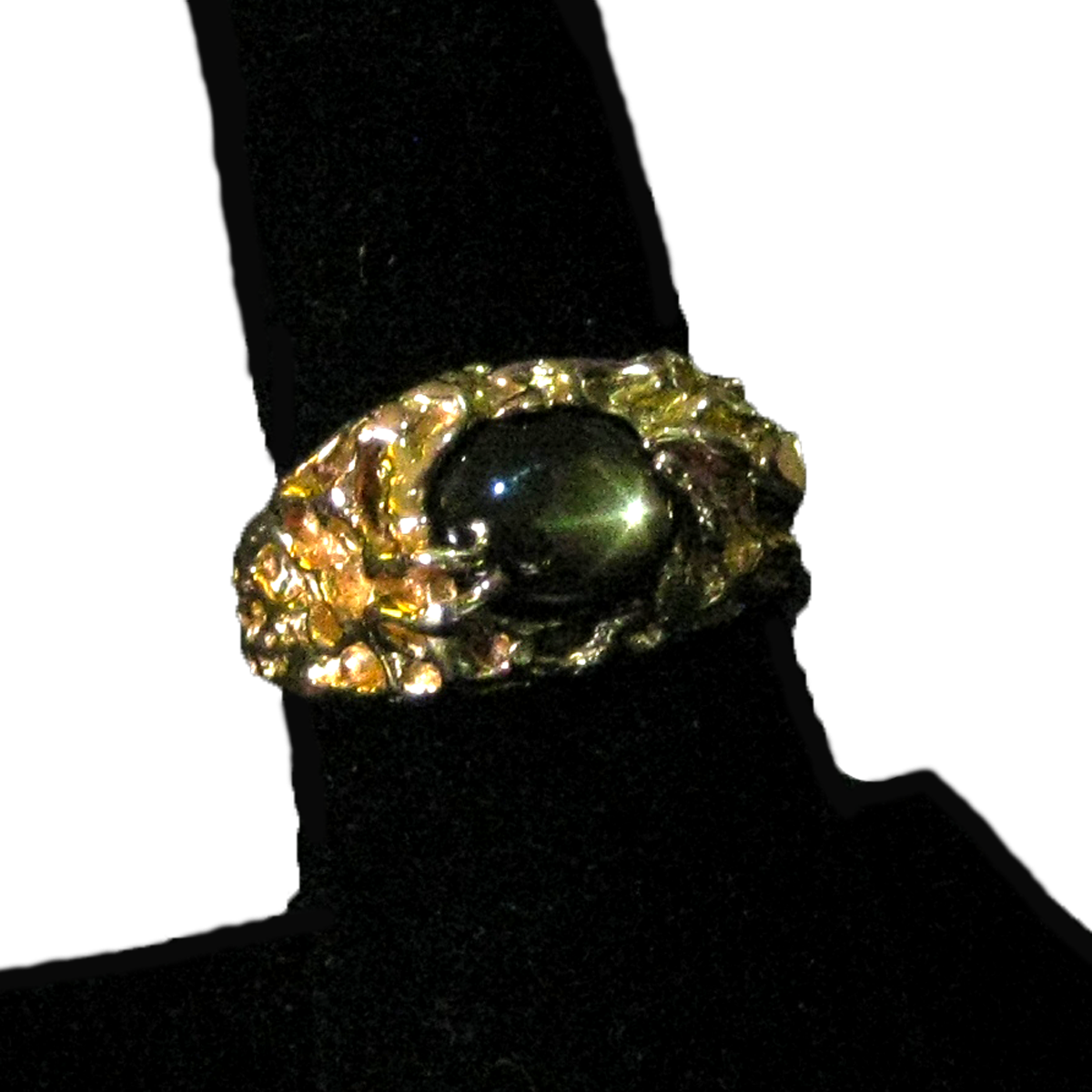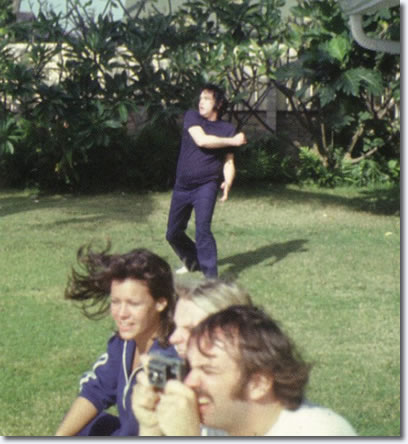 In March of 1977, Elvis took a group of friends to Hawaii on what turned out to be his final vacation.  One of the activities Elvis participated in was throwing the football around, but he found it difficult to throw while wearing this ring.  He took this black star sapphire ring off and handed it to bodyguard Sam Thompson (who can be seen in the photo to the right taking a picture moments after Elvis gave him the ring to hold onto).  After the game, Sam attempted to give Elvis his ring back, but was told he could keep it.
THE KING'S THREADS
The museum has a revolving collection and display of the King's clothing, and these items represent some of Elvis' style from both his professional and personal life.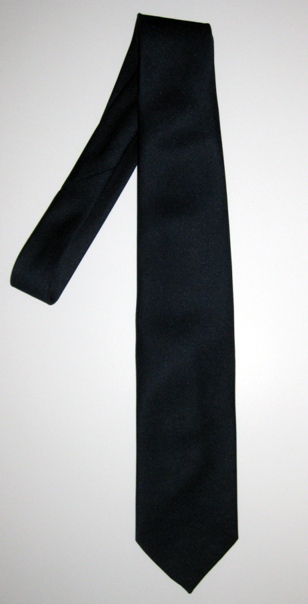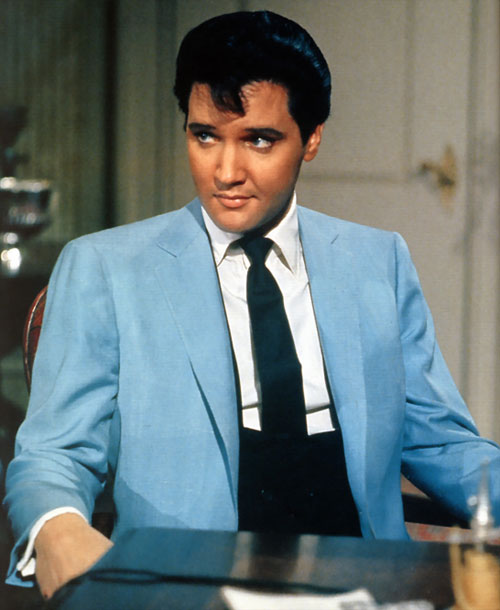 This dark blue tie was worn by Elvis in his 1967 movie Double Trouble.  It can be seen in promotional shots for the film as well as in the film itself.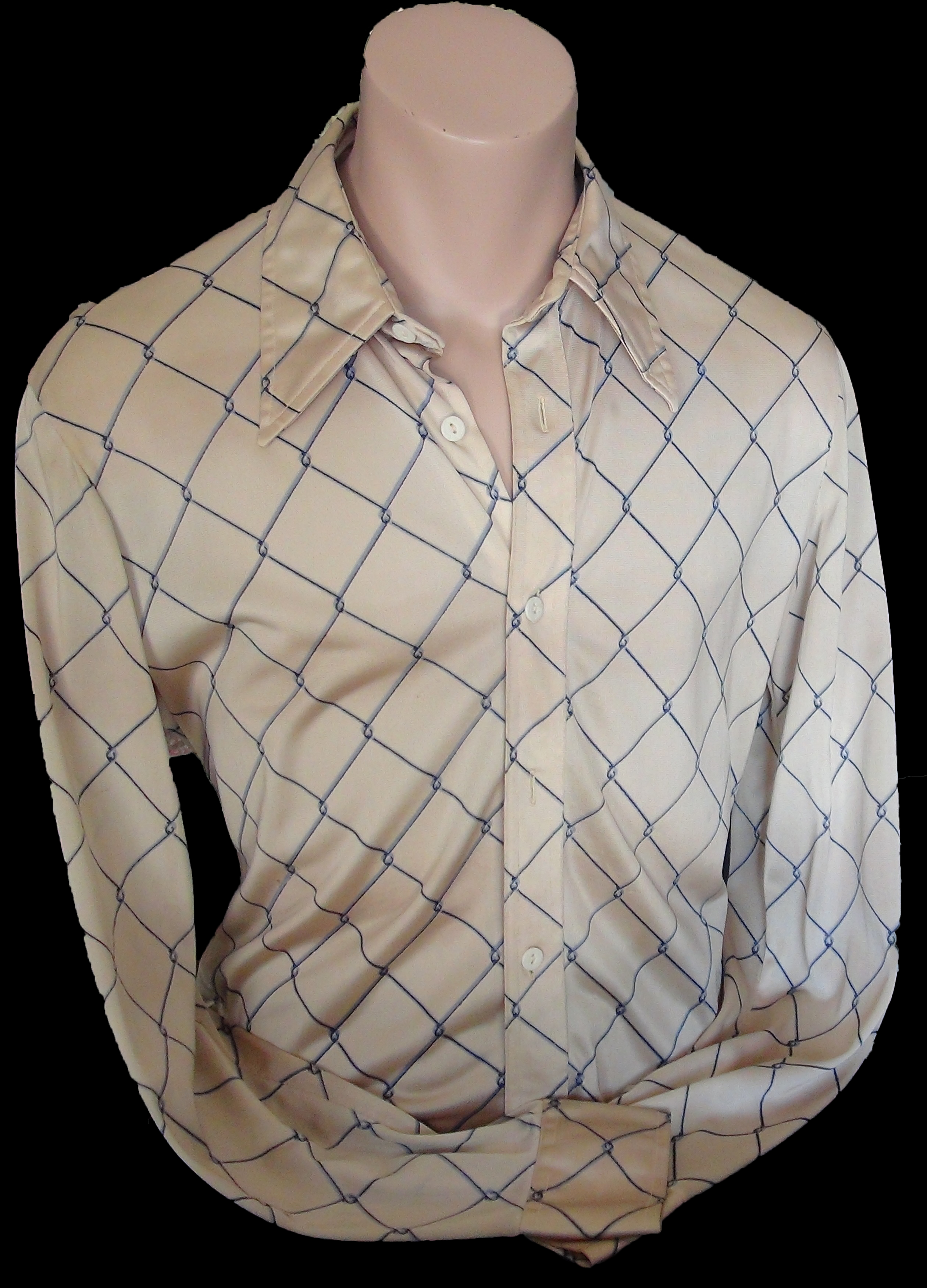 This chain link pattern shirt was worn by Elvis in the 1970s.

ELVIS SIGNED LINCOLN CONTINENTAL BILL OF SALE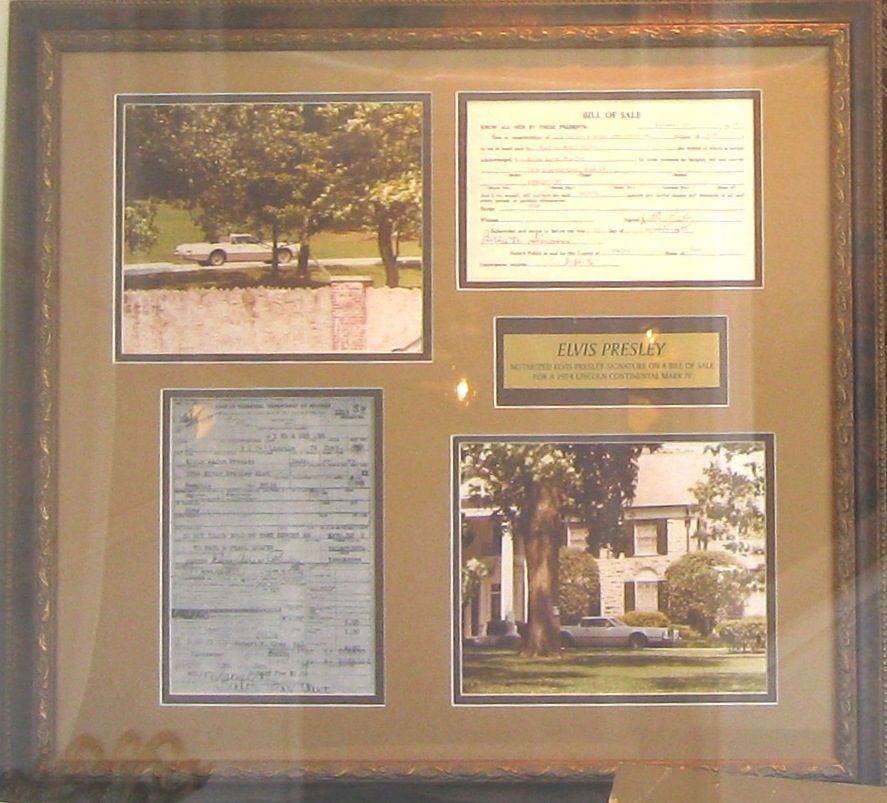 While the museum contains a number of important documents relating to Elvis' life and career, this item shows a special side to Elvis' persona - his legendary generosity.  Elvis was known to give cars away, but in this instance the person had to pay for it...a whole $1.00!  The car was a gift to a local theater owner as a thank you for opening the theater after hours for Elvis and his group.
RELIGIOUS ITEMS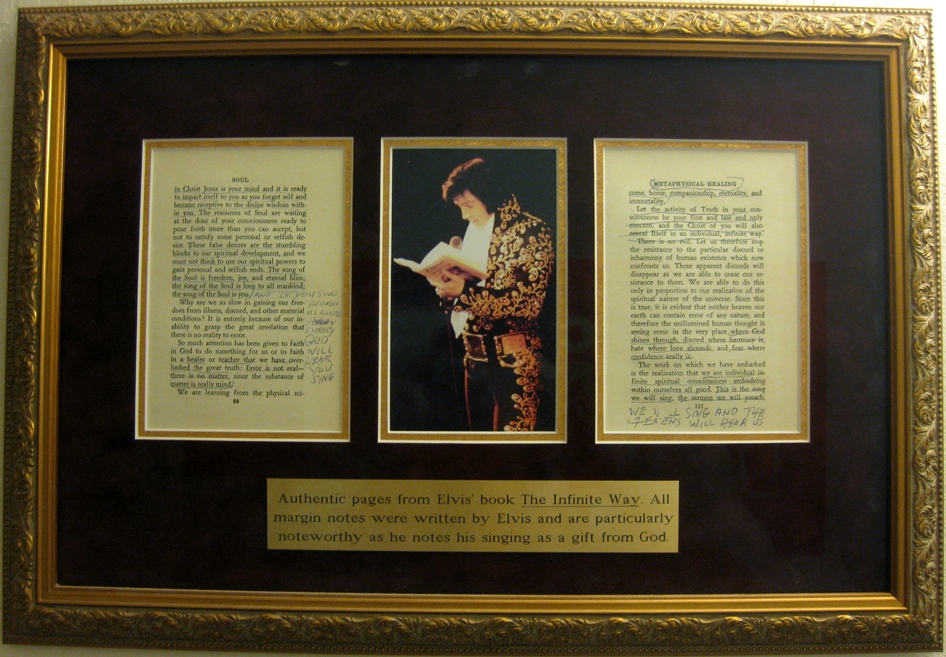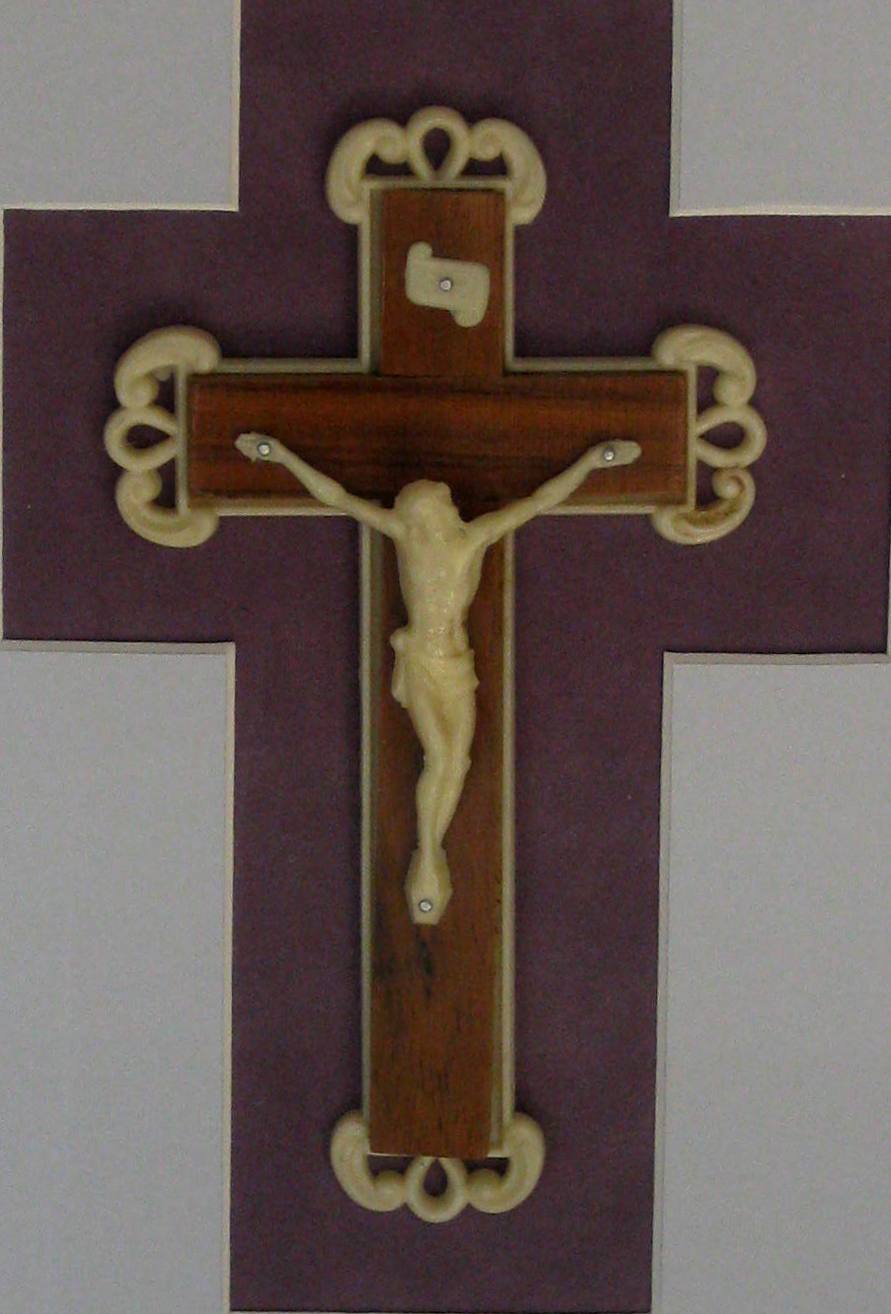 Elvis was a very spiritual man and a number of museum artifacts reflect that. From some of Elvis' personal religious writings to the original cross that hung on his wall, visitors gain insight into this most personal part of Elvis' life.
OTHER ITEMS OF NOTE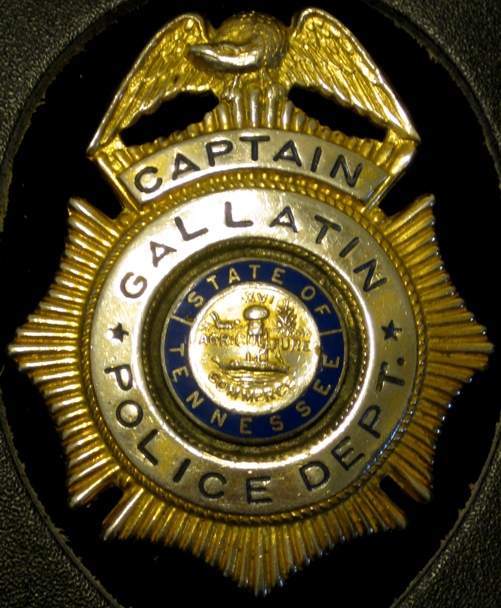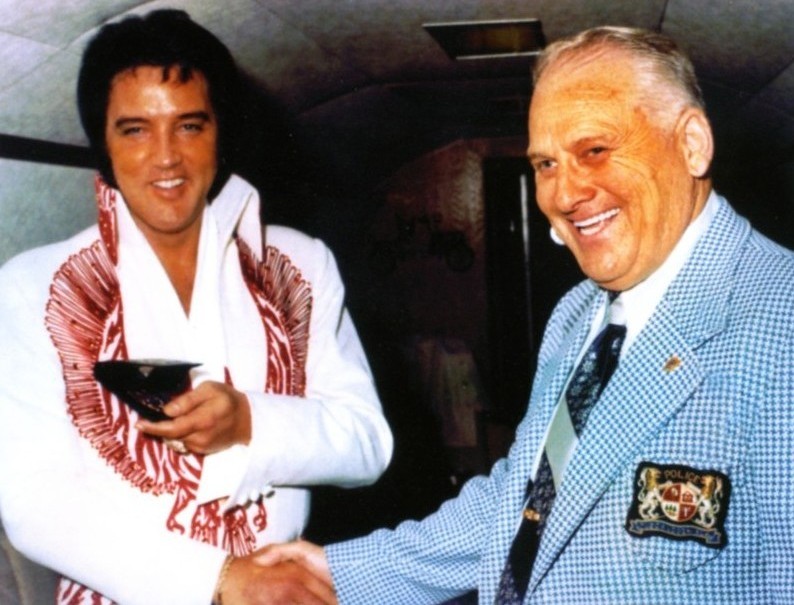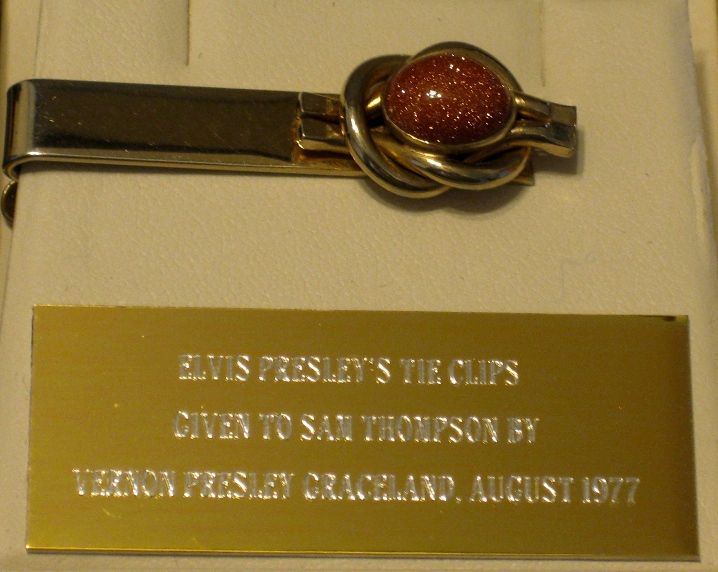 Other items of particular note in the museum include: law enforcement items, a jeweled tie clip selected for his burial, items used onstage, and even his pillow case from his bed on his private jet!
Jeremy Pearce has been collecting Elvis' personal items for nearly 20 years.  Every item has been collected using a very high level of scrutiny in relation to their authenticity.  Only the most trusted sources are accepted as part of the collection.  These sources include famed Elvis museums, Jimmy Velvet's Elvis Presley Museum and the Elvis-A-Rama museum, as well as the most trusted of Elvis' inner circle.  Visitors (and booking customers) can rest assured that in the EPMM they are always seeing the real thing.